On Tuesday evening, September 1st, IFE hosted a celebration of IFE Diplomatic Steward H.E. Dirk Wouters's tenure in Washington, D.C., as his time as Ambassador of the Kingdom of Belgium to the United States comes to a close.  IFE Founder and CEO Coach Kathy Kemper and other friends of Ambassador Wouters and his wife Mrs. Katrin Van Bragt, joined through Zoom in an enthusiastic salute to the Wouters's time in Washington, their cherished friendship, and their generous support of IFE.  With fine champagne in everyone's glass, friends said goodbye, shared memories, and thanked Dirk and Katrin for their leadership and for hosting exquisite and memorable IFE gatherings at their beautiful residence.  The Wouters will be leaving their diplomatic post in Washington and heading home to Belgium in the coming days.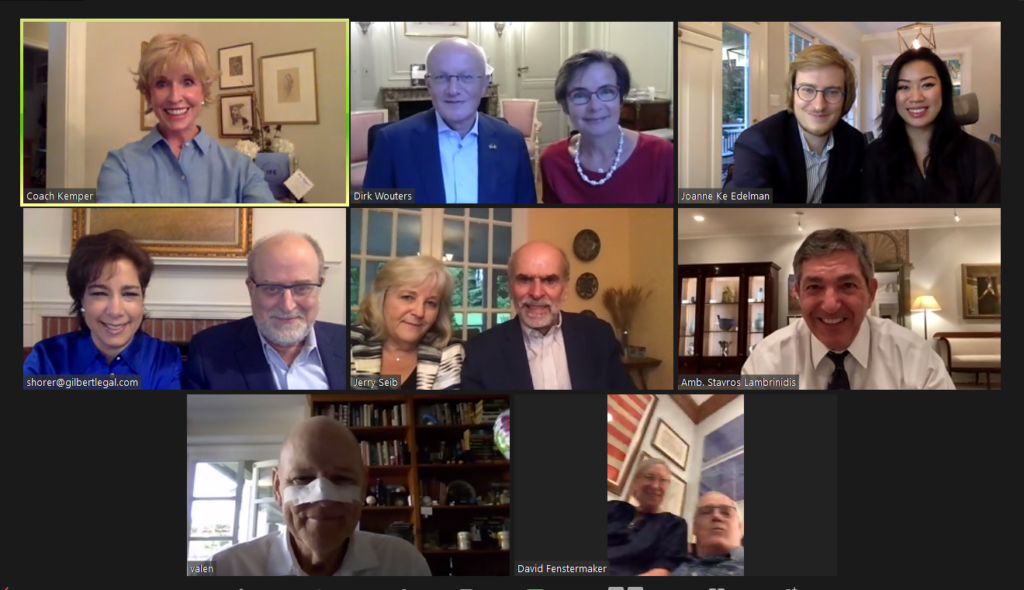 In fine IFE tradition, Coach Kemper welcomed the distinguished guests to toast and offer vignettes honoring the Wouters.  Over the past four years Ambassador Wouters, recipient IFE's prestigious Diplomacy Award, and his wife Katrin Van Bragt have generously opened their home to a dozen IFE salons and dinners, graciously hosting special guest speakers including former White House Chiefs-of-Staff Josh Bolten and Denis McDonough; CNN's Washington Bureau Chief and Senior Vice President Sam Feist; Senate Majority Whip John Cornyn's Chief of Staff Monica Popp; and The Wall Street Journal Executive Washington Editor Jerry Seib, among others prominent thought leaders.  Topics discussed varied from Tech-in-Gov to Media & Technology and from Artificial Intelligence to Emerging Technology.  Ambassador Wouters also participated in many IFE programs throughout the Capital City lending his distinctive voice and valuable perspective to the conversations.  During the 2020 pandemic he and Katrin have been steadfast guests in IFE's virtual Diplo-Drinks/Quarantine Cocktails.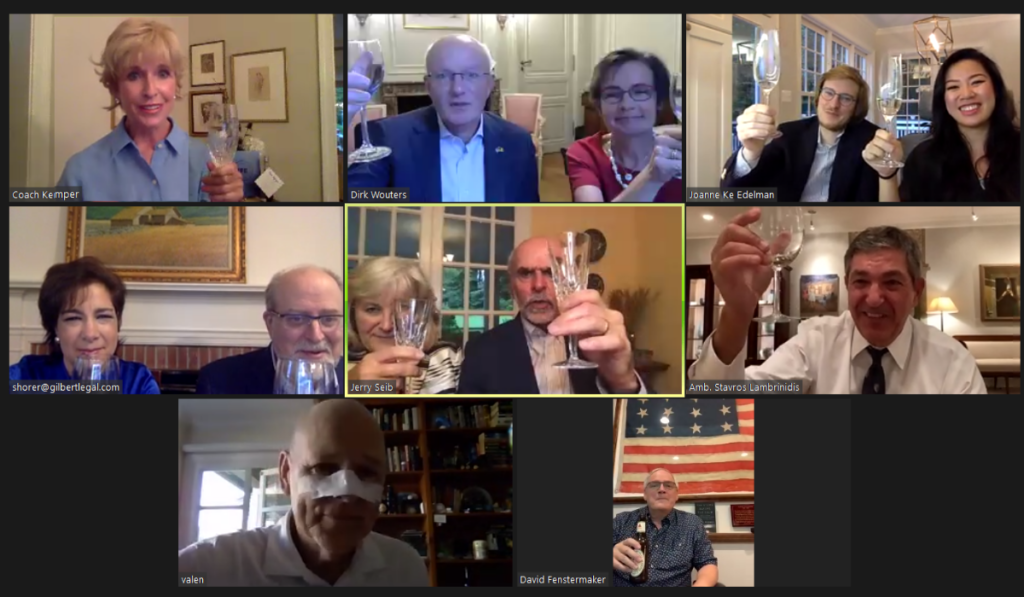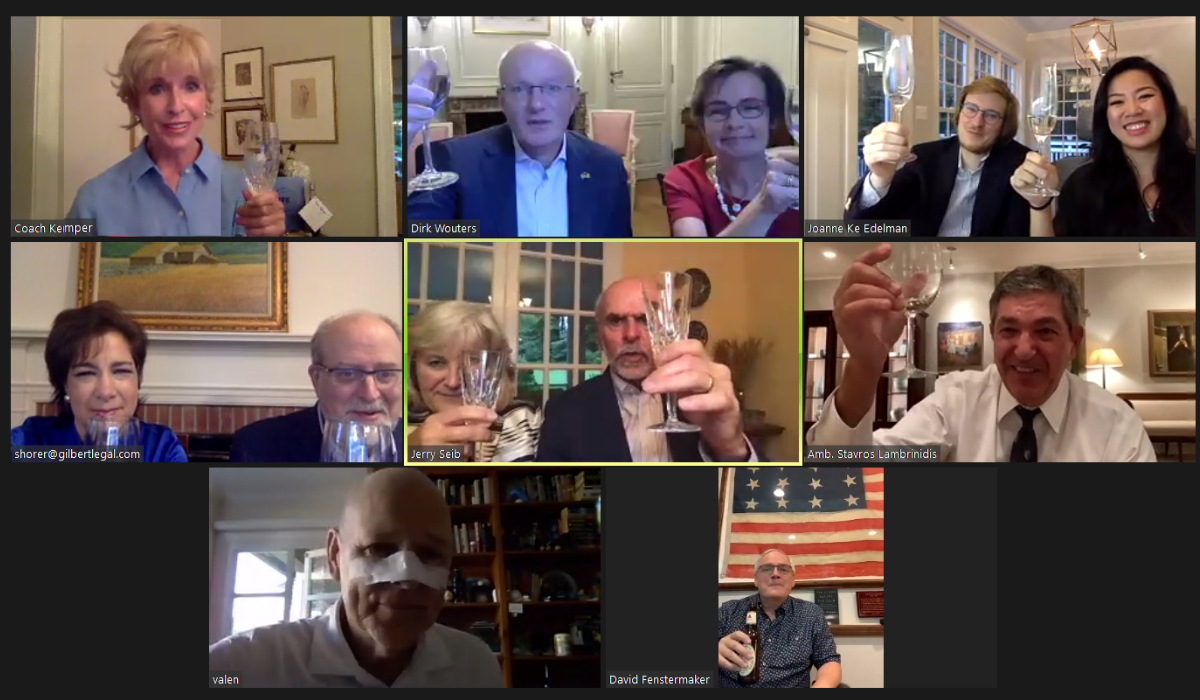 Joining the September 1st  Zoom gathering were H.E. Stavros Lambrinidis, Ambassador of the European Union to the United States; The Wall Street Journal Washington Executive Editor Jerry Seib and his wife Barbara Rosewicz; IFE Founder James Valentine; IFE Fellow Dr. R. David Edelman and  his wife Joanne Ke Edelman; IFE Board of Stewards Chair Marci Robinson and her husband Richard Shore; and IFE member David Fenstermaker and his wife Deane'.  The conversation ranged from personal anecdotes to the national and global issues of the day.
Jerry Seib shared insights from his new book, We Should Have Seen It Coming:  From Reagan to Trump — A Front-Row Seat to a Political Revolution, followed by questions to Mr. Seib and a lively and insightful discussion about the current state of political affairs and predictions of the future.  
Ambassador of the European Union to the United States, H.E. Stavros Lambrinidis, reminisced about the first time he met the Wouters at an IFE gathering and pleasantly surprised the guests by playing Andrea Bocelli singing Con Te Partiro' (Time to Say Goodbye) as a tribute to the Wouters.
It was a delightful and unforgettable, albeit bittersweet, evening saluting Ambassador Dirk Wouters and Katrin Van Bragt as they move back to Belgium and into the next phase of their lives, having made lasting contributions in the diplomatic arena in DC and having forged strong bonds of affection with so many friends who wish them a warm farewell.