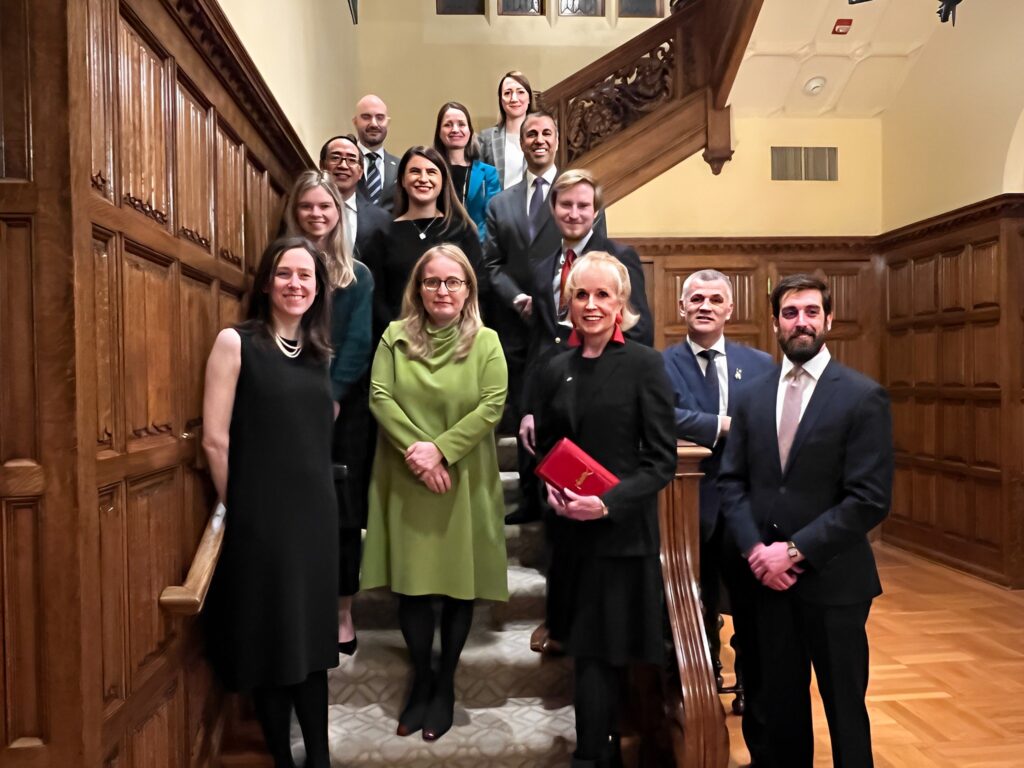 On Wednesday, February 15th, H.E. Nicole Bintner-Bakshian, Ambassador of the Grand Duchy of Luxembourg; Coach Kathy Kemper, Founder & CEO, Institute for Education (IFE); and IFE Steward Dr. R. David Edelman; co-hosted IFE's Third Blockchain Impact Dinner. The wide-ranging and dynamic discussion titled "Blockchain – Where Do We Go From Here?" was held at the historic and stately Embassy of Luxembourg on Embassy Row in Washington, DC.
Luxembourg, a country of just over 650,000 people, is a global leader in digital transformation, and the Blockchain Impact Dinner series is an extension of Luxembourg's approach to cutting-edge innovation. By listening to leaders working at the forefront of the changing technologies of the blockchain industry, discussions like this series allow cross-sector leaders to ask questions, debate and probe recent developments, propose ideas, and understand technologies as they are being developed. The informal, primarily off-the-record dinner conversation was observed under Chatham House Rules.
Coach Kemper welcomed guests by thanking Ambassador Bintner-Bakshian for continuing to host the Blockchain Impact Series in 2023 and noted the Ambassador holds the distinction of being the Institute For Education's Blockchain Diplomatic Steward and is the first female Diplomatic Steward in IFE's thirty-two-year history.
IFE Steward Dr. R. David Edelman framed the conversation, noting that since the last dinner in June 2022, the industry has experienced a remarkable decline in the market value of cryptocurrencies, including the November 2022 collapse of FTX. These developments have contributed to tremendous public attention, media scrutiny, and a sense of insecurity in an industry where trust is paramount. Meanwhile, governments worldwide, including in the United States, have continued developing and implementing policy and regulatory frameworks, new legislation, and enforcement actions.
In light of these developments, one may wonder where blockchain is headed. Promising sectors are finance, supply chain, health, and digital identity. There was a particularly interesting discussion on evidence gathering and safeguarding it on the blockchain. The Impact Dinner series will continue to explore.
Gracious thanks to Embassy Chef Stephan Beauvallet, who prepared a delicious three-course dinner of Red beet soup, Chicken breast in mushroom crust with Vegetable medley, Gromperekichelcher (traditional Luxembourg potato cakes), Luxembourg Pinot Noir sauce, and Ile flottante with raspberry pralines.
Wines included Pinot Blanc 2018 from the Luxembourg Moselle and Merlot 2012 Gordon Estate, Washington.