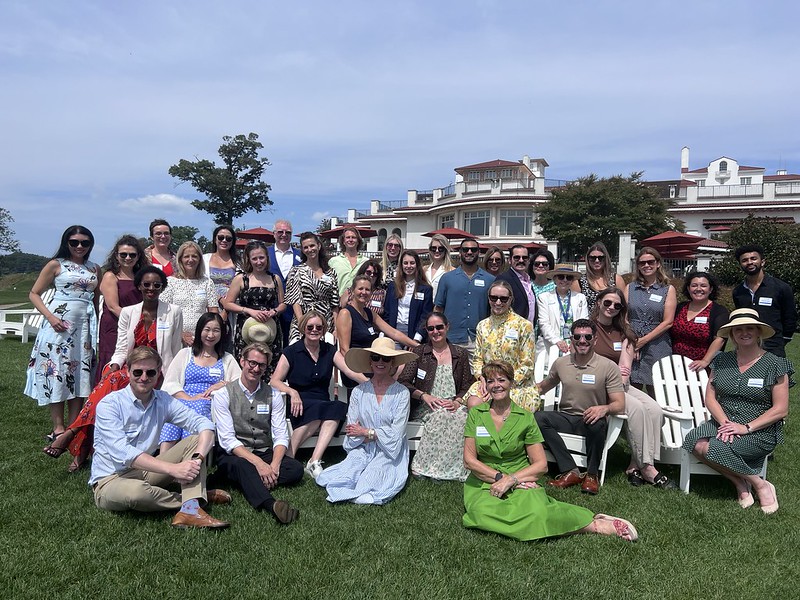 Our enthusiasm for celebrating DC's gatekeepers remained unchanged as IFE leadership gathered with the Capital City's Embassy, White House, and Agency gatekeepers for lunch at the historic Congressional Country Club for its Eighth Annual Summer Social. Social secretaries are the backbone of soft diplomacy and deserve to be recognized for all the work they do. Co-hosting the lunch, with IFE's Deputy Director Elise Ravenscroft, were Gwenda DeMoor, Social Secretary to the Ambassador of the Kingdom of Belgium, and Kiyomi Buker, Senior Advisor and Social Secretary to the Ambassador of Japan, who helped found this annual lunch designed not only to honor these outstanding organizers but also as an opportunity for the social secretaries and personal assistants to reconnect and spend time together face-to-face instead of over email.
Guests sipped Seabreezes, the Club's signature cocktail, with a view of the championship golf course from the Great Lawn, enjoying the chance to connect voices from phone calls, texts, and emails with faces. IFE Cofounder & CEO Coach Kathy Kemper initiated the lunch in 2016 at Congressional, with its rich history of bringing people together, as the perfect location for this annual gathering. Once all the guests arrived, we started the event by taking sour traditional group photos on the lawn (see below) before enjoying a delicious buffet. Special guest speaker, author David Adler, spoke about his new book Harnessing Serendipity: Collaboration Artists, Conveners, Connectors.
We look forward to hosting everyone again next Summer!