Mr. Hiroyoshi Yoshiki of Toyota speaks at IFE Innovation Roundtable Forum
Inaugural Event: An IFE Special Program on Nurturing Innovation Partnerships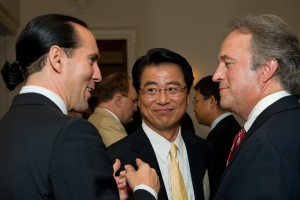 On September 18th, 2012, the Institute for Education held its inaugural Innovation Roundtable Forum, "The Vehicle's Role in Sustainable Energy Solutions." His Excellency Mr. Ichiro Fujisaki, the Japanese Ambassador to the United States, hosted this special event. In attendance were guests from government, business, media, think tanks, as well as IFE friends and fellows.
The evening began with an elegant reception and dinner offering an assortment of sushi and other Japanese cuisine at the Historic Residence of the Japanese Ambassador. The program began with introductory remarks by Coach Kathy Kemper, IFE CEO and founder. Ambassador Fujisaki then welcomed participants and thanked Coach Kemper with heartfelt remarks: "I have only been in Washington for so long, and at first I did not understand why everyone called her 'Coach.' But I do now. She has coached me on how to navigate Washington ever since I arrived here, and for that I am extremely grateful."
Mr. Hiroyoshi Yoshiki, Chief Officer responsible for Toyota Motor Corporation's worldwide R&D and innovation activities, delivered an engaging and thoughtful presentation on Toyota's vision for the future of the vehicle and its role in finding sustainable energy solutions. Mr. Yoshiki profiled the array of different technologies that are shaping society's energy and automotive choices over the next 10 years. These choices will determine the course of energy policies and energy solutions. Highlighting that this conversation is more than a discussion about technological breakthroughs, Mr. Yoshiki articulated the need for government and community leaders to think broadly about the integration of the vehicle with the infrastructure if we are to capture the true energy advantages of leading vehicle technologies such as plug-in hybrids, hydrogen, fuel cells, and compressed natural gas.
Dr. Robert Hormats, IFE Honorary Trustee and Under Secretary of State for Economic Growth, Energy, and the Environment then offered compelling policy and economic reflections on Mr. Yoshiki's presentation. A robust discussion followed Under Sectary Hormats' remarks.
The evening's participants also included: Joshua Bolten, Chief of Staff to President George W. Bush and now a Principal at Rock Creek Global Advisors; John Farmer, Senior Advisor to the White House Office of Science and Technology Policy; R. David Edelman, IFE Fellow and Senior Advisor for domestic Internet policy at the White House; Jim Angle, Fox News; Juliet Eilperin, The Washington Post; Stephan Richter, The Globalist; IFE supporters Greg Farmer, Qualcomm; Christopher Caine, Mercator XXI; Henry Ellenbogen, T. Rowe Price;  Tom Patton, Philips Electronics N.A.; and others.
The evening concluded with Coach Kemper thanking the guests for their attendance, announcing IFE's exciting lineup of speakers for the fall, and reminding everyone to uphold the Institute's mission of promoting civility, common ground, and youth global citizenship.
-Ali Wyne, IFE Fellow; and Adam Becker, IFE intern and White House Innovation Fellow
Click here to: Review Event Photos | Review Round-up as PDF | Review Program | Review Guest List