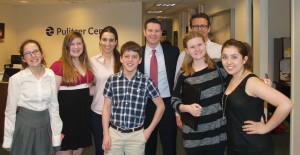 NEXT GEN is a forum for Institute for Education interns and D.C. area high school and college students to meet with national and international political, business, and cultural leaders to exchange ideas with impact. NEXT GENers have frank and open discussions with game changers to learn about future trends and opportunities in an expanding global environment. NEXT GEN partners with the Pulitzer Center on Crisis Reporting and is modeled after IFE's flagship program, INFO Public Policy Roundtable, which is a mainstay in the Washington public policy arena, having hosted more than 250 prominent thought leaders as speakers over the past two decades.   Jenny Shore is the Founder of NEXT GEN and an IFE intern.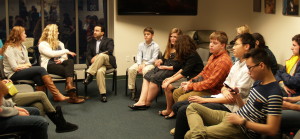 NEXT GEN, now in its third year, has heard from speakers including: Nurit Bar-Josef, Concertmaster, National Symphony Orchestra; Marcus Brauchli, Executive Editor, The Washington Post; R. David Edelman, Senior Advisor for Internet Policy, The White House; Juliet Eilperin, The Washington Post; Dr. Abderrahim Foukara, Washington Bureau Chief, Al Jazeera Arabic; Dan Froomkin, Senior Washington Correspondent, The Huffington Post; Nick Gaines, Founder, GovHub; Dr. Michael Whitmore, Director, Folger Shakespeare Library; IFE Fellow Ali Wyne, Belfer Center for Science and International Affairs; and Brian Forde, Senior Advisor for Innovation, The White House.
Past sponsors include: Starbucks, Chipotle Mexican Grill, and ZBurger.