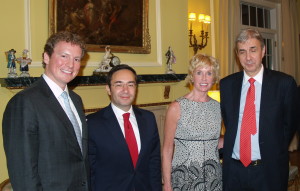 On Wednesday June 11th, 2014 His Excellency Nuno Brito, Ambassador of Portugal to the United States, and Dr. Rosa Batoréu hosted IFE's INFO salon on "Cutting Edge Energy Innovation". The panel featured Jorge Moreira da Silva, Portuguese Minister of Environment, Spatial Planning, and Energy, Dr. Peter C. Evans, Vice President of Center of Global Enterprise, and Matthew Theall, Presidential Innovation Fellow at the U.S. Department of Energy, which was moderated by John Paul Farmer, Director of Technology and Civic Innovation at Microsoft.
Watch a video recap of "Cutting Edge Innovation" here:
After the welcoming remarks by Ambassador Brito and introductions by Coach Kemper, Minister Jorge Moreira da Silva kicked off the conversation by giving the audience some insights into the energy policy of Portugal. Da Silva noted that energy policy is at the forefront of Portugal's agenda, and the government has been active not only in addressing sustainability issues, but also cost efficiency and energy security—Europe is presently heavily dependent on Russian oil, which is a pressing issue given the current geopolitical situation in the region. In addition, da Silva highlighted Portugal's commitment to renewable energy, and is hoping to position the country as a renewable energy provider in Europe.
Peter Evans followed by remarking on some observations that he made from his experience over the last few decades in the energy sector. Evans argued that the focus of innovation or policies in energy should be on the infrastructure networks, in particular the ways in which these networks interconnect as well as coordination problems that might arise. He pointed out that an interesting trend is the increasing interconnection of different infrastructure networks, such as interconnection between gas and rail, as well as roads and electricity in order to enable the operation of electric cars. In addition, Evans emphasized the importance for energy policies to not just focus on sustainability but, with a world that is increasingly facing big shock events, policies should better address the issue of robustness and resilience of infrastructure.
Matthew Theall built on Evans' point about improving infrastructure robustness by sharing his thoughts on the role of technology, especially the global shift towards smart grids, in making the grid more resilient to shock events. Theall also pointed out the importance of the use of big data and machine-to-machine in further improving energy infrastructures.
All three panelists agreed that there is an important role for the government to play in the energy sector. Da Silva emphasized the government's role in correcting market failures and providing clear targets for the private sector. Evans talked about the government's ability to act as a facilitator between different parties in the private sector and resolve some of the coordinating issues. Theall stressed the need for the government to create an environment that accelerates innovation.
Contributed by Joanne Ke, IFE Fellow
Review Event Photos | Guest List | Program & Bios | Event Round-up | Program Video
About our Panelists:
Jorge Moreira da Silva, is a Portuguese politician and an international expert on climate change, carbon finance, energy and environment policy. He currently serves as Minister of Environment, Territorial Planning and Energy in the government led by Pedro Passos Coelho – he was appointed on 24 July 2013. He was the Programme Manager on Climate Change Innovative Finance at the Bureau for Policy Development at UNDP – United Nations Development Programme. At UNDP, Jorge has worked on the post-2012 climate change negotiations, on the establishment of innovative financing strategies on climate change and energy and on the development of climate change market-based mechanisms. Jorge Moreira da Silva has been a Visiting Professor and invited a speaker on climate change and carbon markets in several Portuguese and international Universities and institutions. He was also a Member of the Advisory Committee of the CIRCLE – Climate Impact research Coordination for a Larger Europe. Jorge Moreira da Silva has served as: Senior Advisor to the President of the Portuguese Republic, Consultant to the President of the European Commission, Consultant to the European Investment Bank, EIB, Member (elected) of the Portuguese Parliament, Secretary of State on Environment and Spatial Planning at the Portuguese Government, Secretary of State on Science and Higher Education at the Portuguese Government, Member (elected) of the European Parliament, Vice-President of GLOBE-Europe. He is a member of the Social Democratic Party. From 1995 to 1998 he was the leader of Juventude Social Democrats, the youth organization of the party. Last April 2010, Jorge was elected Vice-President of the national board of the Social Democratic Party and since 2012 he is the First Vive-President and Standing Coordinator of Social Democratic Party, chaired by Prime-Minister Passos Coelho. He is also the Founder and Chairman of the Lisbon-based think-tank Platform for a Sustainable Growth.
Dr. Peter C. Evans is Vice President at the Center for Global Enterprise (CGE) where he is responsible the Center's research agenda and global partnerships. The CGE is a private, nonprofit, nonpartisan research institution devoted to the study of the contemporary corporation, globalization, economic trends, and their impact on society. Previously, Dr. Evans held key strategy and market intelligence roles at General Electric. He was Director of GE Corporate's Global Strategy and Analytics team. He also led GE Energy's Global Strategy and Planning team, where he oversaw the Fuels, Policy, Carbon and Strategic Workforce Planning Centers of Excellence. Prior to joining GE, he was Director, Research Director of the Global Energy Forum at Cambridge Energy Research Associates (CERA), where he was engaged in formulating global energy scenarios as well as oil, gas and power market consulting engagements. He also worked as an independent consultant for a variety of corporate and government clients, including the US Trade Promotion Coordinating Committee, US Department of Energy, the Organization for Economic Cooperation and Development, and the World Bank. Dr. Evans has extensive international energy experience, including two years as a Visiting Scholar at the Central Research Institute for the Electric Power Industry in Tokyo, Japan. His many articles and policy monographs include: The Age of Gas and the Power of Networks (General Electric 2013); The Industrial Internet: Pushing the Boundaries of Minds and Machines (General Electric, 2012) Japan: Bracing for an Uncertain Energy Future (Brookings Institution, 2006), Liberalizing Global Trade in Energy Services (AEI Press, 2002), and "International Conflict and Cooperation in Government Export Financing" (Institute for International Economics, 2001). He is a lifetime member of the Council on Foreign Relations and a Board Member of the National Association for Business Economics. Evans holds a BA from Hampshire College and a master degree and PhD from the Massachusetts Institute of Technology.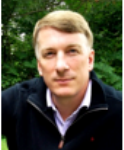 Matthew Theall is a Presidential Innovation Fellow working on "MyData Initiatives" at the Department of Energy. Matt focuses on developing innovative ways to enable the public and American businesses to better understand and reduce energy use; Provides input to draft presidential memorandums and executive orders related to energy issues; Conceptualizes and leads public energy challenges, hackathons and datapaloozas; Develops energy pilot programs with utilities; and works with innovative 3rd parties. Previously, Matt was a Technology Strategist at Intel Corporation, where he focused on networking and Smart Grid technologies and was also Director of several silicon business units. He has served in a number of industry leadership roles, including being a member of the Board of Directors of the Smart Grid Interoperability Panel from 2009-2013, during which time, under BOD leadership, the organization grew from founding in 2009 to 776 member companies at the end of 2012. Matt has also been President and BOD member of several industry trade groups that developed networking and smart grid standards, which then tested and certified products based on technologies developed. In these positions, he chaired BOD meetings, set direction for workgroups and defined organizational strategic/tactical objectives. Matt has worked closely with ITU-T, IEEE and other global SDO's. He was selected to be a member of a U.S. State Department delegation formed to represent the United States at key ITU-T SG-15 meetings. He was also invited by the White House to participate in a summit of industry leaders seeking to develop a clean, smart grid for the 21stcentury. He is an alumnus of Northeastern University, Rivier College, and Harvard Business School.
About the Moderator:

John Paul Farmer served as Senior Advisor to the US Chief Technology Officer in the White House Office of Science & Technology Policy. As such, he directed the Presidential Innovation Fellows program, which brings top innovators and entrepreneurs from the private sector for tours of duty in government, where they team with top government innovators to make game-changing progress on projects of national importance. John currently serves as a Senior Advisor for Healthcare Reform at the U.S. Office of Personnel Management, working on healthcare information technology, delivery system reform and economic issues. Previously, John worked in the investment industry for Credit Suisse and Lehman Brothers. He played professional baseball as a shortstop in the Los Angeles Dodgers and Atlanta Braves minor league systems. John holds an MBA with honors from Columbia Business School and a BA with honors from Harvard University. John is also the co-founder of IFE's Emerging Market Roundtable program. He currently holds the position of Director of Technology and Civic Innovation at Microsoft.
About our Host:
H.E. Nuno Brito, the Ambassador of Portugal to the United States, presented his letters of credence to President Barak Obama on February 23rd, 2011. Before becoming Ambassador to the United States, Nuno Brito had been the Political Director of Portugal and co-chair of the Portuguese- US Standing Bilateral Commission since October 2008. With a Law degree from the University of Lisbon, he joined the Portuguese diplomatic service in 1984 and was soon appointed "desk officer" in the Americas Department. In 1987 was posted to the Portuguese Embassy in Washington where he served for the next 6 years, until 1993. Having returned to the Ministry, he was appointed to the Cabinet of the Portuguese Foreign Minister where he served until 1995. Late in that year, he became chef de Cabinet of the Secretary of State for Defense. In 1997, Ambassador Nuno Brito was posted to the Portuguese Mission to the United Nations where he became Deputy Alternate Representative to the Security Council, which Portugal had joined as a non-permanent member for a mandate for the 1997/1998 period. He became Deputy Permanent Representative to the United Nations in 1999. Ambassador Nuno Brito returned to Portugal in 2002 to serve as the Senior Diplomatic Adviser to the Prime Minister until March of 2005. Subsequently, he was appointed Director-General for European Affairs and was also co-chair of the Luso-Spanish Transborder Co-operation Commission and a Counselor to the Economic and Social Council.  Ambassador Nuno Brito was born in Angola. He is married and has two children.