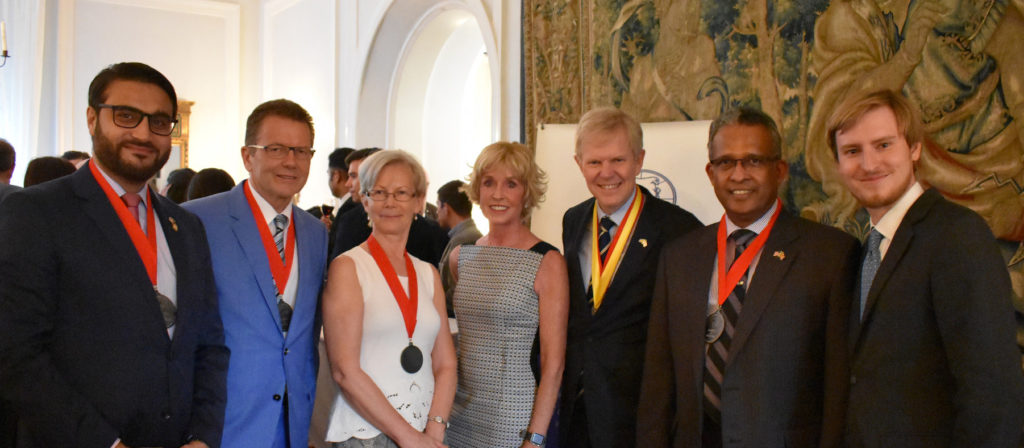 On Monday, July 17, techies, ambassadors, and Washingtonians alike gathered at the gorgeous Swedish residence in Northwest DC to celebrate open government. As guests arrived, they were greeted by Swedish Ambassador Björn Lyrvall, a well-known advocate of social media, innovation, and collaboration. The technology leadership of Capitol Hill and the White House joined the reception, as did the Ambassadors from Afghanistan, Austria, Finland, and Sri Lanka. During the celebration, the Institute for Education presented Ambassador Lyrvall with the Global Technology Visionary Award for his commitment to innovation in government.
H.E. Björn Lyrvall will soon return to Sweden to serve as the Ambassador for Arctic Affairs. The Institute for Education broadcast his last interview in America on Facebook Live. The Ambassador was interviewed by IFE Distinguished Fellow, the Honorable Dr. R. David Edelman, discussing bipartisanship, freedom of the press, and issues facing the Arctic region.
Thank you to our wonderful hosts Aneesh Chopra, Gerrit Lansing, Matt Lira, and Rob Cook. The Institute for Education welcomes Mary Anne Cook to our leadership, as the new Technology in Government Steward.
Contributed by Emily Lovell, IFE's Open Government Program Director
Photos by Nathalia Penton, IFE Fellow
View: Open Government Sweden Wrap Up  | Event Photos
---
---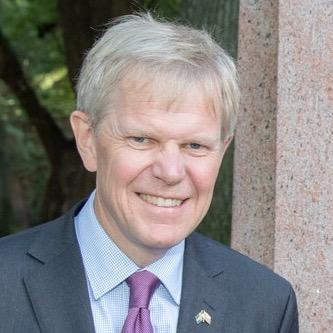 About Our Award Recipient:  Björn Lyrvall (@bjornly), a career foreign service officer, presented his credentials as Sweden's ambassador to the United States to President Barack Obama on September 17, 2013. It's the first posting as chief of mission for Lyrvall. Lyrvall was born in Hofors, Sweden in 1960. During high school, he spent a year as an exchange in rural Pennsylvania. He graduated from Stockholm University with a degree in political science, Eastern European affairs and Russian. Lyrvall started working for Sweden's Ministry of Foreign Affairs in 1985. He was posted to the Soviet Union early in his career, serving as a vice consul in Leningrad and working for Sweden's trade council on Soviet issues. He was also stationed at the embassies in Moscow and London. In the mid-to-late 1990s, Lyrvall spent much of his time on the Balkans. From 1995 to 1997, he was a special advisor to Sweden's Minister for Foreign Affairs, Carl Bildt, in his role as EU negotiator and International High Representative in Bosnia and Herzegovina. In 1999, Lyrvall was named United Nations special envoy on the Balkans. Lyrvall went to the European Union in Brussels in 2002, first as Sweden's delegate to the enlargement negotiations, and then in 2003 as Sweden's ambassador to the EU Political and Security Committee, remaining in that post until 2007. He returned to Stockholm to serve as director general for political affairs in the foreign ministry. He remained in that post until being sent to Washington. Lyrvall's wife, Madeleine Andersson Lyrvall, has also worked in Sweden's foreign ministry. They have three children.