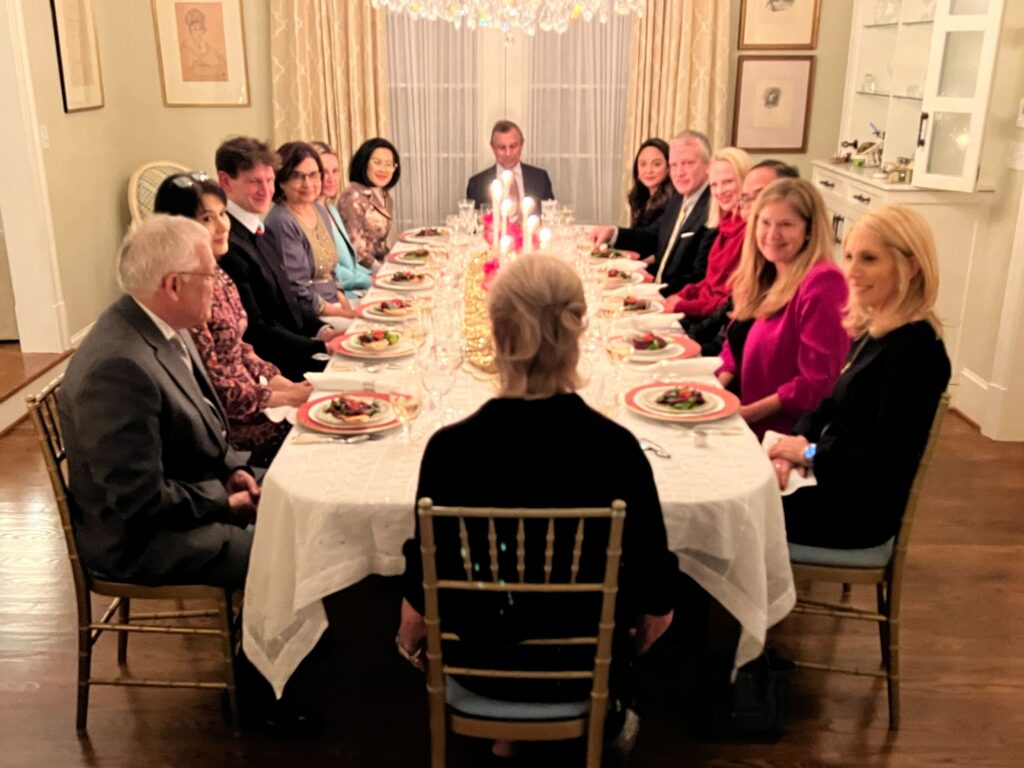 Coach Kathy Kemper and IFE welcomed Evan Rogister, Principal Conductor of Washington National Opera and the Kennedy Center Opera House Orchestra, and his wife, Danish Diplomat Synne Espensen, to her gracious home in the Capital City. Guests were treated to Coach Kemper's impressive delicate, and fine art collection. Maestro Rogister shared stories of his performance at the Bolshoi Theatre in Moscow on February 24th, 2022. This was the day Russia invaded Ukraine. The brave Russian musicians performed wearing blue and yellow ribbons. Evan spoke of getting Synne and their two babies out of Moscow. They were on the last commercial flight before air space became restricted.
Henry Wadsworth Longfellow wrote, "Music is the universal language of mankind." Scientists at Harvard published the most comprehensive scientific study on music as a cultural product, which supported the American poet's pronouncement and examined what song features tend to be shared across societies.
Dinner guests celebrated with toasts of Veuve Clicquot and a promise to attend more of Mastro Rogister's Operas at the Kennedy Center Opera House and his upcoming debut at Glyndebourne Festival, conducting Mozart's Don Giovanni this summer.
Music is our world's common language, unifying. This is when humanity needs to find common ground and celebrate soft diplomacy.